This background is based on the information contained in Staughton Lynd's book,
Lucasville: The Untold Story of a Prison Uprising
, various other sources,
and correspondence with prisoners involved.
Here is a detailed factual timeline of events based on testimony and evidence presented in court. Staughton is also putting together a series of essays leading up to the 20th anniversary conference of the Uprising.
Where and when was the Lucasville Uprising?
What were conditions at SOCF at the time of the uprising?
What caused the uprising?
How did the uprising begin?
Who was involved in the uprising?
How did prison racial factions impact the uprising?
How violent was the uprising?
How did the state conduct themselves during the uprising?
Who killed officer Vallandingham, and why?
How did the uprising end?
What happened after the uprising?
Where are the Lucasville Uprising prisoners at now?
What can we do to change their fates?
Where and when was the Lucasville Uprising?
The uprising occurred April 11-22, 1993, at
Southern Ohio Correctional Facility
(SOCF). SOCF is located outside the village of
Lucasville
in Scioto county. Like most prisons, SOCF's placement in this rural setting exaggerates cultural and racial divides between the prisoner population (largely urban people of color) and the rural white guards.
What were conditions at SOCF at the time of the uprising?
In 1993, SOCF was overcrowded, violent, repressive, hard to transfer out of, and and dangerous to live in. Fights were incredibly common. Guards smuggling weapons and contraband was a known practice. Prisoners sent to segregation or "the hole" where often beaten and sometimes murdered by guards, with no consequences.
Prisoners attempted to defend themselves through legal and non-violent channels exhaustively. Attempts to r
enounce US citizenship
, to form a
prison labor union
, and to send
Amnesty International
a petition listing violations of the
United Nations Minimum Standards for the Treatment of Prisoners
were repressed by the administration and ignored by the courts. The Amnesty International petition, for example, was confiscated as contraband by SOCF and the authors were charged with "unauthorized group activity."
A major turning point in the history of Lucasville came in 1990, when Beverly Taylor, a female tutor was murdered by a mentally unstable prisoner whom the prison administration had appointed as her aide. This incident incensed the citizens of southern Ohio, who demanded changes at Lucasville.
What caused the uprising?
People who lived near SOCF demanded changes that empowered the administration, punished prisoners and only made the situation worse. Following the teacher's death, a new warden named Arthur Tate came in and instituted "Operation Shakedown." This new program started with searching all the cells, destroying prisoner's personal property in front of them and went on to impose a number of arbitrary and often inhumane rules, encouraging snitching, and increasing stress, resentment, and insecurity for the prisoner population.
Tate also requested additional funding and an expansion of the super-max security wing. Prison spending was a hot issue, and given that SOCF never filled the super-max cells it had, politicians couldn't sell the public on this expansion plan. Meanwhile, Tate increased repressive policies and became more and more unreasonable. Looking back on Tate's actions after the uprising, some prisoners believe that he was trying to provoke violence in order to justify his expansion plans.
Non-violent resistance to SOCF policies continued and increased during "Operation Shakedown." Prisoners desperately sought support from the outside world. Almost immediately after Tate's arrival, a group of prisoners took a correctional officer hostage and demanded to broadcast a statement on a local radio station. After hearing the broadcast, the hostage was freed unharmed. This incident shows the desperate lengths prisoners had to go to get any recognition of their plight in the outside world. This incident successfully caught the attention of federal courts, bringing some help and oversight into SOCF.
Only this dangerous and aggressive action yielded results. Tate became always more unreasonably stubborn and arbitrary, escalating tensions over minor issues, until the prisoners broke into a full-on violent revolt.
How did the uprising begin?
Warden Tate mandated that all prisoners be subjected to a TB test that involved injecting alcohol (phenol) under their skin. A large group of Sunni Muslims objected to this test because it violated a tenet of their faith. Tate refused to allow these prisoners an alternative to the injection test, even though saliva testing is at least as affordable, reliable and easy to administer. In a meeting with Muslim leaders six days prior to the uprising, Tate assured them that if they refused, they would be forced to take the injections in their cell blocks in front of the other prisoners, the approach that was most likely to provoke violent resistance.

On Sunday, April 11th, the day before TB testing was scheduled to take place, a group of prisoners took action. Their intention was to take control of and barricade themselves in a single living area or "pod" and demand someone from the Central Office in Columbus review the testing procedure. This did not work out as planned. It's unclear whether guards fought back, rather than surrendering the keys, or if the prisoners let years of abuse get the best of them, probably some of both, but the action quickly escalated and within an hour the prisoners had taken over the whole cell block, including 11 guards. Hundreds of prisoners, many of whom were on their way in from outdoor rec time, were now either in the occupied cell block or on the yard outside of it.
Who was involved in the uprising?
Early on, amidst the chaos and fighting, there were cries of "Lucasville is ours! This is not racial, I repeat, not racial. It's us against the administration! We're tired of these people fucking us over. Is everybody with us? Let's hear ya." The prisoners roared their approval and the uprising expanded beyond this specific group of prisoners upset with TB testing methods. Members of all the prison factions, including the Gangster Disciples and the Aryan Brotherhood stood in solidarity as convicts against their common oppressors: the prison administration and the state of Ohio.
That night, three of the eleven hostage guards were released in need of medical attention. The bodies of five suspected snitches, and three injured prisoners were also placed on the yard. By 3:21 am the next morning, prisoners who remained on the yard rather than in the cell block surrendered to the authorities, who rounded them up, stripped them of all clothes and possessions and packed them naked, ten to a cell in another block.
Over 400 prisoners remained in the occupied cell block. They spent the next 11 days working together to negotiate a peaceful conclusion to the uprising.
How did prison racial factions impact the uprising?
Graffiti at SOCF found after the Uprising
Racialized gangs are a norm in prison, prison administrators often manipulate these gangs to turn convicts against each other. Prison administrators surely expected, and perhaps Warden Tate intended to provoke a race-war and a blood bath. The media prematurely reported as much, telling their viewers entirely false stories of dozens of bodies piling up inside the occupied cell block.
In actuality, the prisoners worked together against their common foes. Factions split up into different parts of the occupied cell block, but coordinated activities through a group of representatives who negotiated demands to bring an end to the uprising. Prisoners recognized the racial tensions in the situation, but had enough experience dealing with each other across racial boundaries to quickly adopt a few basic policies to prevent disaster and establish convict solidarity. Many of these policies were practical decisions, based on an understanding of the racism that exists both inside and outside of the prison. Each faction disciplined their own, white hostages who were known racists were held by the Aryan Brotherhood, members of each faction got together to work out demands and conduct negotiations. They chose a member of the Aryan Brotherhood to act as the initial spokesperson for the occupation, knowing that the public and the administration was more likely to hear what he said. At the end of the eleven days, a group of three representing each of the gangs involved, negotiated the details of the surrender.
How violent was the uprising?
The convicts created a structure to keep relative stability and peace. They collected all the food in a central location, to be distributed equitably later. They created a rudimentary infirmary, "no weapons" zones, guard posts and a group of representatives from each faction to negotiate with each other and the state.
There were relatively few severe injuries or deaths. Nine perceived informants were killed, and one hostage guard, over the course of eleven days. Compared with other prison uprisings, Lucasville lasted longer with a lower per-day death toll than most and is the only prison uprising of its size to end in peaceful negotiated surrender. For a counter-example, America's most famous prison uprising,
1971 in Attica
, 3 prisoners and 1 guard were killed over the course of 4 days. Attica ended when soldiers stormed the compound, killing 29 prisoners and 10 guards.
How did the state conduct themselves during the uprising?
The state refused to negotiate or recognize the prisoners' demands from the start. When prisoners rigged up a loudspeaker system in order to communicate with reporters outside, prison officials first drowned it out with a helicopter, then shut off the water and electricity. Prisoners resorted to writing messages on sheets hung out the windows and listening to news via battery powered radios in hopes that their messages were getting through. Meanwhile, the state was stalling and amassing troops for an assault.
On the 4th day of the uprising, a spokesperson from SOCF took questions from the media and when asked about messages on bedsheets threatening to kill guards if demands aren't met, she disregarded the threat as "part of the language of negotiations" and described prisoners demands as "self-serving and petty." The state didn't take the negotiations seriously until the next day, when prisoners delivered the dead body of one of the hostage guards to the yard.
Who killed Officer Vallandingham, and why?
The answer to that question is legally disputed, but a good look at the evidence, testimony and even post-trial statements of prosecutors and other officials suggest that one of the negotiators, Anthony Lavelle, decided to carry out the threat without agreement of the other prisoner negotiators. He assembled a small group of prisoners, who wore masks and killed Officer Vallandingham. This killing appears to have prevented the state from staging an armed assault on the occupied cell block and to finally begin negotiating in earnest with the prisoners.
How did the uprising end?
The uprising ended with prison officials agreeing to a 21-point negotiated surrender with the prisoners. The first point prisoners demanded was: "There must not be any impositions, reprisals, repercussions, against any prisoner as a result of this that the administration refers to as a riot." The second point was: "There must not be any singling out or selection of any prisoner or group of prisoners as supposed leaders in this alleged riot." Much of this language remained in the final agreement. Many of the other demands were that the prison be run according to its own rules, regulations and standards.
What happened after the uprising?
The state violated this agreement. Some prisoners were singled out as leaders and subjected to reprisals, beatings, manipulation and twisted mockeries of trials. The state decided that the crime scene was "too contaminated" to pursue physical evidence and instead chose to base their investigation primarily on witness testimony. They destroyed much physical evidence and went after anyone who refused to be witnesses and snitch out other prisoners. True to form in the American criminal justice system, who actually did what is less important than who is willing to cooperate and bargain with the state. Those who refused to testify against others were branded "the worst of the worst" and given harsh penalties, including death. Those who were willing to testify were sent to Oakwood Correctional Facility, where they got special treatment, were threatened, coerced, and received coaching on exactly what the state wanted them to tell a jury. Oakwood was later dubbed the "snitch academy" by other prisoners.
Ironically, Anthony Lavelle, the man who most likely killed Officer Vallandingham was the state's star witness against the other Lucasville negotiators. He is currently serving 7-25 years, while others charged with the officer's murder appeal their cases on death row.
The state of Ohio and the Ohio State Highway Patrol did everything they could to prevent a fair trial at every stage in the process. They obstructed the accused's access to counsel, evidence, resources, fair court rooms and impartial juries.
Cases are still being appealed and argued. Some of the prisoners have made recent gains, acquiring access to evidence that had been previously denied. Others, continue to struggle against magistrates who refuse to acknowledge glaring faults in the trials and Judges refuse to hear or grant appeals.
Where are the Lucasville Uprising prisoners at now?
Following the uprising, the state of Ohio built a supermax facility outside Youngstown called Ohio State Penitentiary (OSP). Many of the 40-some prisoners sentenced after the uprising were transferred to OSP when it opened in May 1998. OSP is a
504-inmate capacity super max prison
. As of Mid-January 2012, it houses 90-100 level 5 supermax prisoners, around 170 level 4 prisoners, and 6 death row level 5 prisoners (4 of whom were involved in the Lucasville uprising) all are single-celled as described above. There are also around 230 lower level "cadre" prisoners (housed in a separate building) who are there to do forced labor maintaining the facility.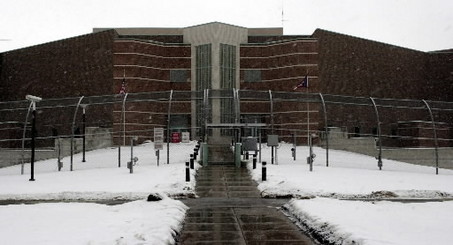 Ohio State Penitentiary
Many super-max prisoners at OSP are housed in solitary confinement 23 hours a day, in 89.7 squre foot cells (a little more than 7 x 11 feet). They get very little sunlight or human contact. Some of the Lucasville Uprising prisoners have been held in these or similar conditions at other facilities since 1993.
OSP cost $65 million to build and over $32 million a year to run, that's almost $150 per prisoner, per day. Much of this money goes to private companies contracted to build, maintain, and provide unfairly expensive communication, commissary and other services to the prison. Clearly Arthur Tate's belligerence and provocation of Lucasville prisoners got the funding and prison expansion he was looking for, and then some.
What can we do to change their fates?
Our first goal is to increase awareness of the uprising and to tell the stories of the many prisoners unjustly suffering punishments for their attempt to resist unimaginable oppression. You can help ease that suffering by writing to the prisoners and by donating to their support effort. You can fight for justice by
supporting them in court, opposing the death penalty in Ohio, writing letters or calling the Warden at OSP or the Ohio Department of Rehabilitation and Corrections (ODRC). You can increase awareness by hosting a screening of The Shadow of Lucasville, organizing other events, rallies, or protests.
Many of these prisoners are ready to fight for their rights.
At the start of 2011, the death sentenced Lucasville Uprising prisoners held at OSP had one hour of solitary rec time a day, they were separated from their visitors by bulletproof glass, they had very limited access to telephones and legal resources, and no chance of having their security level dropped. They had endured these conditions, including no human contact other than guards for 18 years. Now, because of

a series of hunger strikes and organizing efforts, they are allowed to rec in pairs, have access to legal databases, one hour of phone access per day, and full contact visits with their loved ones. These changes allow them to demonstrate that they are not a danger to others and thus should help them eventually reduce their security level.
On the 20th anniversary of the Uprising, organizers held a 3 day conference. This conference produced a resolution demanding amnesty for all of the Lucasville Uprising prisoners. Let them free.
We are not claiming that all of these prisoners are innocent (though some surely are). We are claiming that none of them received anything like a fair trial. We're also claiming that the state and the ODRC are primarily responsible for the conditions that caused the uprising, and for the violence that took place during it. Holding ODRC accountable starts with amnesty for these prisoners.
We also recognize that heinous conditions continue at SOCF, OSP and many other prisons in Ohio. We know that mass incarceration traumatizes and breaks up our communities, is used predominantly against poor and working people, is racist, dehumanizing and ultimately serves no legitimate purpose. Prison exists to make money for corporations, to protect the vast inequality that has taken hold of our country and to keep minority populations and communities down. We defend the Lucasville Uprising prisoners in the name of any prisoner who also longs for freedom, who longs to break out of their chains and to resist the torments visited upon them by the prison system.
ABOLISH PRISON!
FREE ALL PRISONERS!