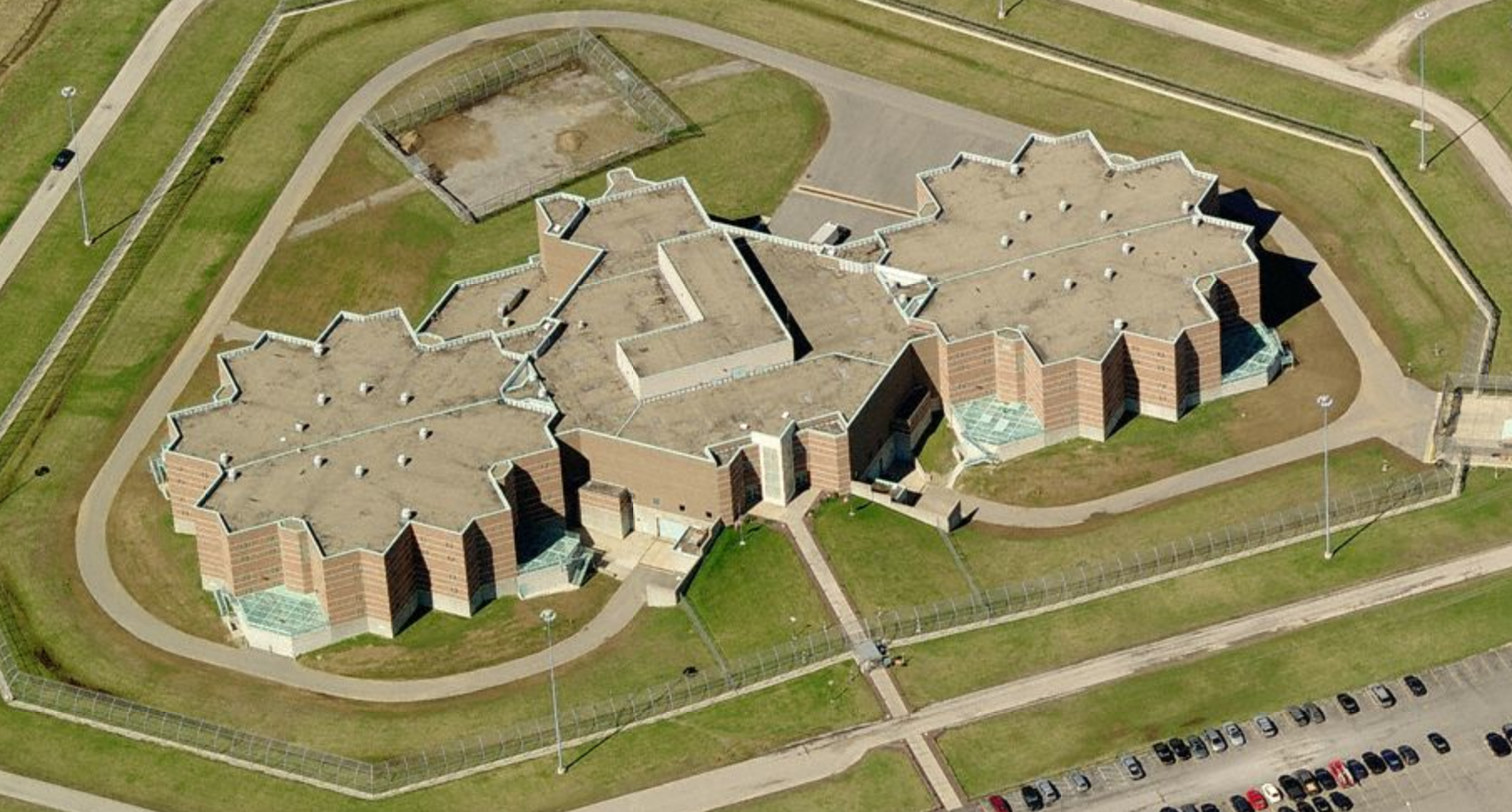 According to Siddique Abdullah Hasan, many prisoners at OSP started a hunger strike today protesting recent policy changes that illegally restrict prisoner access to recreation and programming, including constitutionally protected religious programming.
The prisoners are demanding rec and programming be returned, and these other issues addressed. Please call the following officials and demand that access to recreation and programming be returned, and that the warden meet with and negotiate any other demands the hunger striking prisoners have.
Call Warden Jay Forshey at 330-743-0700
You can also email the warden's assistant: Laura.Gardner@odrc.state.oh.us
Write a letter to: Warden Forshey, Ohio State Penitentiary, 878 Coitsville-Hubbard Road, Youngstown, Ohio 44505
Fax: (330) 743-0841
Call regional director (and former OSP Warden) Todd Ishee 330-797-6398
Address: Todd Ishee, Northeast Regional Office, Voinovich Building, 242 West Federal Street, Suite #402, Youngstown, OH 44503
Fax: 330-744-3512
Email: Todd.Ishee@odrc.state.oh.us
Call ODRC Director Gary Mohr at central office (614) 387-0588
Address: Ohio Department of Rehabilitation and Correction, 770 West Broad Street, Columbus, Ohio 43222
Email: DRC.publicinfo@odrc.state.oh.us
With recent changes, only 15 or so of the over 400 prisoners at OSP are allowed congregate recreation on the range anymore and the prison is severely restricting outdoor rec. There are not enough outdoor rec cages get prisoners their legally required 5 hours a week if prisoners are only allowed out one at a time. Staff said the elevators going five of the semi-underground rec cages were broken, so access to rec is even more restricted.
We don't know how many prisoners are participating in the hunger strike, but Hasan suspects many have joined in.
5B (the highest security level, about 57 prisoners) have also been denied access to programming, including constitutionally protected religious programming. There are a number of smaller greivances relating to the administration rolling back safety conditions and privileges the prisoners have won through lawsuits, complaints and earlier protests. To hear the full description of the prisoner's greivances, listen to the below phone call with Siddique Abdullah Hasan.
You can listen to the full audio of the phone call with Hasan
here
.
Below is a partial transcript. If you'd like to help out by picking up where I left off, please email Insurgent.Ben@gmail.com (to make sure only one person is working on the same thing at a time) and i'll get it posted. Thank you.
This is Imam Siddique Abdullah Hasan calling from Ohio State Penitentiary. Ohio's state of the art super max prison. Today is March sixteenth and there has been a hunger strike starting today at this institution. There are numerous reasons for prisoners starting this particular hunger strike, but I guess you could say the straw that broke the camel's back is when the prison officials said that for all prisoners at this institution, with the exception of four long term prisoners--the four prisoners who have been here since 1998, who have been here as a result of the Lucasville Uprising, who are on death row--and the cadre prisoners, we are the only prisoners at this point that will be allowed to have range rec.
All the other prisoners, the 5A, the 5B the 4B and the 4A transits. [ed note- 5A, 4B, etc refer to security levels.] It is my understanding that all the 4A prisoners have been transferred out of the institution to Lucasville and Trumbull Prisons [ed note- some 4A's also went to Toledo Correctional]. The reason for this sudden decision--and there's various reasons the prison staff is giving--one of the reasons (and I doubt it's true) they say prisoners are passing things. You know, stamps envelopes, anything passed they consider it to be a major offense. That's one of the reasons.
Another reason that they're giving is that there have been a few instances where the guards refused or neglected to lock the shower door, or to put the latch on the recreation cage, and there were a few incidents where you had some fights, nothing serious, mainly wrestling matches if anything, and they claim that is the reason.
The most pertinent reason seems to be, there was a prisoner here by the name of Cornelius Harris. Years ago he slipped out of his hand cuffs and jumped on a CO by the name of McVeigh and this officer lost two of his teeth. Not long after that he stabbed a CO by the name of officer Burns. Then after that, he stabbed another CO named Wine through the cuff port. [ed note- you can read
Cornelius Harris' account of these incidents
. Harris was charged with attempted murder for these incidents, but a
jury ruled that he acted in self-defense
.] There were some other incidents that he was involved in. So because of the prison officials, they have said that he was incorrigable they transferred him out of state to the state of Maryland.
While he was in Maryland, he stabbed two COs there and they ended up transferring him back to Ohio State Penitentiary. After coming back here, he's always been on level 5B, which is the highest security level with the least privileges in the institution. Him and one of his friends, they went up to the program booth, where you've got six cages, where they have classes, religious classes, programs, etc. While up there he stabbed an officer in the neck, and his friend hit another CO with his fist.
After this incident they closed down all the programs, but it was only supposed to be temporarily, until they put some wire fences there so people could not stick their hand out of the cages or the bars to assault another officer. So, now that has been fixed, and what came down as a result of that incident is that any prisoners that are on 5B--the worst level, which Harris and the other prisoner who assaulted the officer were on--so they stopped all programs for 5B people. There are approximately 56 people on 5B who will experience this collective punishment.
This is a constitutional issue of religious freedom. There are some muslim prisoners and non-muslims who're in the upper denominations, and they are effected by this. So what the prison officials basically what are saying, and excuse my expression, they are saying "to hell with the law, to hell with the constitution, we're going to do it our way" and that's the only way they're going to recognize. So all prisoners on level 5B are being deprived of their religious rights and they are also being deprived of any other programs they had in there. You have psychological programs, academic programs, social programs, you have man up programs, all of these programs that are geared toward prisoner's rehabilitation to help them to better themselves so when they can be a credit, or an asset to society as opposed to a liability they are no longer allowed to attend these programs. That is diametrically opposed to what the constitution and the law says with regards to providing prisoners' first amendment rights.
This is also the reason they don't want prisoners to come on the range for recreation. So, they do provide prisoners cage rec, where you can rec in the cage where you're locked down, but they cages that they have as far as height and width, they do not meet the standards of the ACA, the American Correctional Association, and this institution has been given ACA accredidation where they get money from them and when it comes to the ACA, the staff members, the executive members they rotate and a yearly basis, but they mainly consist of wardens from other states. So this year the president can be from Ohio, next year from Minnesota, next year he can be from another state.
When it comes to the inside rec cages not meeting the ACA standards, what the ACA will probably do is make an exception for Ohio, because that's just the way they do, they cover for each other. So as is stands now prisoners are allowed to go outside [a high walled concrete space with metal grating at the top] but the problem with that is they've got one two big cages on one side of the institution for people to go to rec individually, and then they've got five small cages where people can be next to each other, in cages and go out. Now this morning, what they said is that the elevator is broke, so nobody can go to the small cages. In otherwords, five prisoners cannot go outside to congregate together, as if they're going to be out there strategizing and planning, so what they came up with was an excuse, they say the elevator is broke so nobody can go out and use the small cages, everyone needs to use the big isolated cages.
The law reads that prisoners are allowed five hours per week out of their cell if weather permits. Today it's supposed to get up to 65 degrees, and if weather does not permit, then they'll be given inside recreation. That's what the law says, but what the prison authorities have posted on the TV monitors for weeks says that if a person does not get to go out on rec they get to make it up, but they are only allowed to make up one day of rec at a time, so if they miss two or three outside recs due to weather, they are not going to be allowed to make them up. This is in violation of the law that says they get 5 hours rec per week.
Illegal restriction of outdoor recreation is the main reason for the hunger strike, but not the only reason. Denying prisoners ability to go out on the range, and access to all programs for people on 5B. So again, it's not geared toward any kind of rehabilitation. They're just going to warehouse you.
When you come to this institution you've got to be on 5B for one year, so that means for one year the person has no opportunity to participate in any religious academic or vocational programs. You just remain in your cell, go to rec, take a shower and that's the end of it. No rehabillitation.
Even though 5As can participate in these programs, they're participating because what happens if their security level is lowered? They'll end up in a 5B situation.
People are coming from other institutions, some people come straight from the county jail. So they
want to do like Malcolm X, Martin Luther King, you could say that they are trying to fight certain
issues, not only trying to make it better for now, but for future generation that may come to these
concentration camps. It could be their nephew, one of their relative or it could be anyone. The fact
is it is there for us to challenge it now, so that people who come after us don't have to face the
challenges that we are dealing with.
Unit manager Wolf just came in here right before I called and some guys upstairs in D­Block and
C­Block guys were kicking at the door. I don't know if they were trying to agitate him, some of the
staff came in, or they had a legitimate calling or not. I can say this, I have been here for 18 years
and Wolfe hadn't been here for all that time, but I heard about him being unit manager from other
units. How he runs things with an Iron hand or he wants to be a hardliner the same attitude and
disposition the warden has. Because you have a relatively new warden here Jay Forshey, he
pronounces his name as For Shey is a jolly good fellow and because he is a new warden, he
allows his subordinates to basically runs things and he just signs off on it. He is not a hands on
type warden like warden Bodie was. Unaudible sentence.
Again I will not mention all these smaller issues, another important issue it relates to the long
termers but before I get there let me take care of everybody else. When I first got here there were
no shower mats in the showers and the showers basically consist of stainless steele, the whole
part. People have been slipping and falling. When we first came here 18 years ago there was one
prisoner who fell in the shower, busted his head, had a heart attack and died. Obviously the
prison autorities and the coroner ruled that he died as a result of a heart attack and not from the
fall. Whether he died from the heart attack or the fall that lead to the heart attack it is insignificant
the fact is that after this particular incident happened the prisoner authorities put mats, throw mats
in all the showers to prevent prisoners from falling. So there was a throw mat in the shower and
when you came out of the shower on the concrete there was another throw mat, there were 2
mats in each shower throughout the entire prison. Recently, about 2 months ago they removed
the floor mats from the shower and a lot of guys are falling again, busting their head, putting
stitches and staples in their head. The prison authorities said that the reason they removed the
mats is because maggots or flies or something was developing. In other words it is better to
remove the mats and people bust their head and get staples in their head as opposed to try to find
some kind of way to resolve this problem.
In C­block you have 8 pots, one through four which is on the other side of the prison. I am on this
side of the prison where you have C­5 through C­8.
So this morning the majority of the people who are on hungerstrike right now, they came from my
side of the prison because of what they were saying that they believe in their heart, that the prison
authorities would execute what they said and stop range rec for everyone with the exception for
long term prisoners. On the other side of the prison C­1 through C­4 they weren't sure, so they
wanted to wait and see if they are going to take their range rec. and they are going to start their
hungerstrike at lunch. Lunch time has come and gone. There were two different tiers where
people are on hungerstrike. Yes, there are a lot of people on hungerstrike, I have not been able
to get an accurate amount of people that are on hungerstrike on C­Block.
4 B does not get rec. 4 B consists of the majority of people here, the only people that are allowed
on rec range are 4 A and trustee's (there are only 7 of them here), they clean the offices, they
sweep the floors. I was told that all of the 4 A's left this institution, they went to Lucasville and
Toledo. They kept 4 prisoners, so those 4 prisoners and the four of us who are on death row
longterm that's 8 and plus the 7 that are trustee's, so that are 15 people who are allowed range
rec...all the 4 B's all the 5 A's, all the 5 B's and all the 4 A's are not getting range rec. unaudible, 2
people speaking....
They came up with this excuse that the elevator is broken. Now that is on my side 5 through 8 as
for 1 through 4 I don't know if they are claiming that elevator broke too. The elevators are on 2
different systems I will try to find out and I will pass that information to one of you. I will try to find
out if the elevator on the other side is broke too.
The last thing is this in January 2011 ( two names inaudible) myself and 2 other prisoner we went
on a hungerstrike and we were able to gain concession, some concessions from the prison
authorities, to be brief we were allowed to have 3 packages per year, we could have up to 2 full
boxes and 1 inaudible package another concession they modified our commissary list which
would be similar to the death row prisoners, who were being housed at the Ohio State
Penitentary at that time, but they are no longer here, although we are death row prisoners we are
here but the other death row prisoners are housed at (inaudible) correctional institution. They
changed our commissary list and improved it, so that we can buy more items, another thing was
that we were given semi contact visits, we were allowed to get access to computers, West Law,
so that we can do research on our case and assist our attorneys to be up to par on current cases.
There were 2 other things that they gave us. The point I am getting to is, for the last three weeks
Keith Lamar has been trying to get out into the computer room to do some research and look up
some cases because he had a hearing with his attorney and arguments in this case, some of the
things that his attorney wrote about, he wanted to do some research on this case, but in three
weeks he hasn't been able to attend it. When you ask the case manager Scott Novack and the
LT's, as well as our unit manager none of them seem to know why he can't attend, they don't
know what's wrong with the computer room or if it is not set up what happened to it or whatever,
so it's like they are retrogression, we are going backwards as in the things that we have achieved
with regards to the computer room. We have not been able to get access to the computer room in
three weeks and he has been trying to get in there on a weekly basis. So I don't know if they ever
are going to gt it fixed or how long it is going to take them to get it fixed, but that is one of the
problems we have and in relation to ourselves one of the problems that we are running into, we
have been giving privileges longtermers that normal prisoners here do not get but it is less then
what the people on death row get and if we try to get additional privileges we were told that we
are going to be given the same privileges that death row prisoner are given except when it poses
a legitimate threat to the institution here, for example, when we asked them we would like to have
4 visitors, uh no like we said we're giving you all the same privilege as death row. Death Row
prisoners can have 3 adult visitors at one time, so that we can keep it the same, but when we try
to get things inaudible...then they want to tell us "well you all are not really death row, you all are
5­A longterm." And what 5­A longterm is 5­A longterm when May the 7th comes this year we have
been here for 18 years and we are alive and doing well we could be here another 18 years so that
is basically what longterm consist off. We are longterm prisoners, so they call themselves given
us privileges but like I am telling them, they are not giving us anything, because coming through
the door we are death row prisoners and we should be given all the same privileges as the death
row prisoners are given, except where it poses a legitimate threat to the institution and what I
mean by legitimate threat, let's say all 4 of us want to rec together and they say...No, we don't
want 4 you all rec together because we feel that could create a problem and if you all decide not
to lock up or you all want to create a disturbance it would be hard for my officers to contain 4 of
you all....Ok whether that is legit or not and we accept it that would be considered a legitimate
reason for them not give us that particular privilege.
But other things that we have tried to get from them, it didn't make any sense for them to actually
oppose it but again the reason they keep using is that we are longterm prisoners and because of
that status we are not given those privileges, but the easies way to do it, we believe in our hearts
that we are entitled to it. We should be given death row status like other death row prisoners when
it does not pose a threat to the institution. Like couple of months ago I ordered some glasses
under the old warden and our unit manager Lt. Booth and warden Bobby when we order our
glasses from (inaudible ) optical which are wire frame glasses we are allowed to get them, but Mr.
Wolf, the same person I always talk about and who creates problems wherever he goes. Mr.
Wolf, he don't want us to have glasses, he goes to his friend who is the Major, because they have
a little clique going on, then they say that ...Well, you can't get the glasses....are they wire frame
glasses or do they have a piece of metal on them and pose a threat to the institution. I say...Hold
on, I got a TV in my cell, I got AC adapter's in my cell, I got walkman's in my cell, fans,
typewriter's, keyboard and I can go on and on and tell you about other kinds of metal I have in
my cell...They say...You can't have them, because you are 5­A and anytime they want to deny us
anything that's the reason they keep using. We are not death row prisoners, we are 5­A
longtermers and we all believe that is unfair, because we are being denied stuff when it does not
pose a legitimate threat to the institution so we are on the hungerstrike joining forces with the
other guys as well.
Interviewer: So, that is your reason for being on the hungerstrike along with them.
Answer: Yes that, the religious part, because you know in Islam it teaches us One when you
truly believe until you want for your brother what you want for yourself. If I was on 5B where I can
not participate in my religion I will be offended by that, so I am offended by the fact that they don't
allow Muslims to attend religious service, but remember they not singling Muslims out they
(inaudible) Christians, Jews or whom other, well, I am saying this I want for my brother and other
people who say they believe in God Allmighty to be given the opportunity to participate in their
worship service and they are not given that. So I feel it's an attack on people religious beliefs and I
will not sit idle on the sideline and allow that to go on. So, I am protesting and follow them in that
respect, too, although it does not affect me, but who knows, today I am on 5­A longterm, but who
knows someone could fabricate something against me and tomorrow I can be on 5­B that means I
won't be allowed to attend my religious service, or any other program I choose to participate in.
Not only that, like I said, but what about Muslims or non Muslims alike who belong to a valid faith
group who come to this institution and have to be on level 5­B for one complete year at least
before he goes to 5­A that means for that whole 12 months these people can not participate in
any religion, they can not participate in any program, none of that.
And some of these people on 5­B, and some of these people, they are released straight from from
5­B go home, I mean you kept them well housed, you didn't provide them with no religion, no
spiritual, no academical, no vocational, no psychological, no social training, or uplifting
development for the human being and you release these same people back into society and they
end up exploring their old way of living which is preying on other people and victimizing these
people for their own survival and that's not good. So, I am solidarity with them even though some
of these things don't affect me personally.
Interviewer: Do the restriction on the booth affect 5­A as well as 5B?
No, on 5­A you can go to the small cage if you choose to, but because you are 5­A, that's a higher
privilege you get to accept to the big cage if you choose to.
Interviewer: I am not talking about rec, I am talking about the program booth.
No, that only affects 5­B, 5­A can attend it.
Interruptions due to time limit on call.
Hassan back on:
Before I move to the next person question, let me clarify something with you...as I said:
The denial of the religious programs, education or otherwise it only affects 5­B prisoners and I
would say this here prior to the (inaudible) 5­B attended all of these programs, benefits received
certificates etc. So, the only reason they could be doing it is being vindictive because of their
officers was stabbed in the neck and another one was punched in the face. But now that they
have restructured or remodeled the program cages, they are secure. If they are secure for 5­A,
then they are secure for 5­B, but since the person who did it was on level 5­B now they don't want
all the 5­B to have the opportunity to participate in programs and again they don't have a valid
excuse.